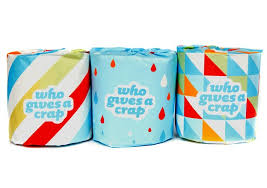 Who could have dreamed that common loo paper could have such a positive impact in the world… The folks at Who Gives a Crap, that's who!! These awesome people donate 50% of their profits to the organisation WaterAid.  WaterAid are addressing many vital issues across the globe, such as providing clean water, and improving sanitation and hygiene issues in impoverished regions. "The water and sanitation crisis is the second biggest killer of children under five years old worldwide." (www.wateraid.org).
"When it comes to our toilet paper, we want it to be as good for your bottom as it is for the planet and the people living on it. That's why at Who Gives A Crap, we promise to:
Flush Poverty Down the Loo; Make Every Wipe Count; and Be Good For Your Bum." (www.whogivesacrap.org).
See how Who Gives a Crap are making a huge difference in these areas here, and the wonderful WaterAid here